"It's a stunning new

breakthrough in golf technology

"…
Test-Drive The World's
Most Cutting-Edge
"Hot Metal" Hybrid Clubs
-- Valued At Over $630 --
For FREE If You Like!
It's An Insane Financial Risk I'm Taking –
For My Hotlist Golfers ONLY!
This Is Your Chance To Dump Your Clunky Long-Irons And Out-Dated Woods And Replace Them With The
Coolest Cutting-Edge "Mega-Distance" Hybrids

On The Planet... Hands Down The Easiest Clubs You Will Ever Hit In Your Life!
But You've Got To Act FAST…
There's Just 193 Sets Of These Astonishing Clubs To Go Around…
And I Expect To Be Sold Out
By !
From:
Doc O'Leary
Head Golf Nut, OHP
To:
My "Most Favored" Hotlist Member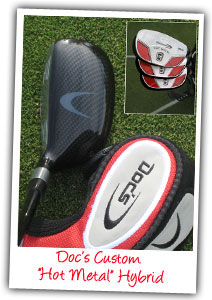 Dear Fellow Golf Nut:
Stunning news.
Golf is about to become a whole lot simpler for you.
And waaay more fun too.
If you're prepared to launch smokin' hot shots from any lie…
... hit every shot with authority and TOTAL CONFIDENCE that your ball will land exactly where you want it to…
... and reach long par 5s in two shots, just like the professionals… then what I've got for you will have you dancing with joy.
Here's what's happening: See that photo on the right? That's my set of brand new "Hot Metal" Hybrid woods.
Gorgeous, huh?
They're a true marvel of cutting-edge technology... a major improvement on the "distance" hybrids you've probably already seen the tour players using.
These are NOT your standard Hybrids. Nope. They're brand new "Hot Metal" HYBRIDS.
NOBODY else has these. You'll be the first.
I've designed them myself and OHP is the ONLY place to get them. They're simply the BEST professional-level cutting edge custom-made hybrids on the market today:
All three swing exactly like a 7 iron… yet have the distance of a long iron. Take a comfortable little poke at the ball and get 170… 195… 220 accurate yards – without breaking a sweat. In fact the easier you swing the better these Hybrid clubs perform! This is the fast, simple way to effortless distance.
The entire head is virtually one huge sweet spot – making it practically impossible to hit a bad shot. The special MOI design and unique "bulged" face (all of which I'll explain in a second) mean that even miss-hits fly straight and true. You simply pick your target – and whap… total pinpoint accuracy. Your buddies will be beside themselves with grief. ("Oh my God… he did it again!")
Super versatile too. And it doesn't make a bit of difference what kind of lie you're facing. Jungle thick rough… granite hardpan… spongy pine straw… none of that matters. The Hot Metal Hybrids are your guardian angels, designed to scoop the ball out of any trouble spot as easy as if it were teed up.
This is pure golf heaven...
... and allows you to dump half the clubs in your bag -- for good.
That's right, just toss your old hybrids and your 2, 3, 4 and 5 irons into the lake. Or make wind-chimes outta them. Or (if you really wanna be a jerk), give em to your golf pals to screw up their game.
But the best part: As my preferred hotlist member I want you to personally "test drive" these three cutting-edge "Hot Metal" Hybrid Woods…
For
FREE


If You Want!

I'm completely serious.

It's a huge financial gamble for me, but that's how confident I am that you'll love these new clubs as much as I do. Three custom Hot Metal Hybrids – a $630 value – guaranteed to change your golfing life forever.

Here's why you really, really NEED these clubs: Did you know that an amateur, (that's me and you), can only hit his long irons (and those inferior hybrids) correctly just 7% of the time?

That means…
You're Screwing Up
Your Most Critical "Game Winning" Shots…
93% Of The Time.
You heard right. For every 100 attempts, 93 of them fall a hundred yards short of the target… or are sent whistling off into the thickets… or sliced under trees on the opposite fairway.
Jeeze.
If you missed 93% of basketball free-throws you'd be tossed from the game and told to take up bowling.
Imagine playing a slot machine stacked 93% against you. Outrageous.
The whole problem, (as it turns out), is that the "sweet spot" on the most other hybrids and long irons –
Is Only About The
Size Of A Pencil Eraser
Or the tip of your pinky. Wow… now that's small.
So unless you're a seasoned PGA tour pro hitting thousands of practice balls a day, you simply can't strike that tiny little spot with one lick of consistency.
Which is why you've NEVER been able to hit these clubs. Too sensitive and fickle for my game. Like threading a needle… while riding a unicycle… down a steep gravel road.
You need something easier.
And that's exactly what we got... and why it's so important to you.
Okay... to help me make these "Hot Metal" Hybrids, I once again sought out the assistance of the most respected "underground" clubmaker on earth…
... my man "Brimley", (that's not his real name… but he sure looks like a Brimley).
Oh he's a character alright. Absolute genius. Tucked away in his California shop like a hermit.
His credentials are the best I've ever seen: A real Leonardo Da Vinci of golf. He's a blend of engineer, designer, experimenter, and golf artist in one man.
With 47 years experience, Brimley holds 15 major golf patents (including ones for these Hybrid Woods)… has lucrative contracts with practically every major golf equipment corporation (which is why I dare not mention his real name)…
... and is known as the "grandfather" of the metal clubhead, (remember when clubheads were made exclusively from laminated Maple and Persimmon wood? Well you can thank Brimley for changing all that nonsense).
He's not a mass-producer, but rather an inventor and quality custom clubmaker for high-end clients interested in top performance.
He's personally designed clubs for big-wig politicians (including the Speaker Of The House)…
... the rich and famous (like Frank Sinatra, Willie Nelson, and Larry Gatlin)…
... and PGA touring pros (like Tom Weiskopf, Nancy Lopez, Jim Thorpe, Judy Rankin, Sandra Palmer, and Hubert Green).
I don't dare name Brimley's biggest PGA clients as their sponsors would come after me like ravenous pit bulls.
Okay… so what does all this have to do with YOUR clubs? Well just this. Brimley fired up his substantial brain power and focused it like a laser beam onto the task of developing these brand new "Hot Metal" Hybrid Woods.
The cutting edge process he used was not cheap, (I know, because it nearly bankrupted me).
In fact, the clubhead is made very similar to the way they produce high-tolerance aerospace parts, medical equipment and precision instruments.
It begins with some very high-tech heat-tolerant ceramic molds warmed up to 1000-degrees…
… into which is poured...
A searing 1225-degree
431 pure ingot stainless steel.
Looks like molten volcanic lava or something.
The extra high heat permits this special alloy -- an exacting combo of 17% chromium, 4% nickel, and .20% carbon -- to evenly penetrate every nook and cranny inside the ceramic shells.
This unique "Hot Metal" process then includes an anneal "hardening" at 1950-degrees for 30 minutes (then cooled down in an oil drench)... tempered again at 950-degrees...
... and a final 1700-degree heating and precision stair-step "cool-down" to ensures the clubhead is completely homogenous and hits with machine-like consistency.
The end result is an astonishing feat of "art" and technology... a harder and stronger clubhead that stills maintains a great "feel" and plenty of spring off the clubface.
The quality is impeccable, with standards so high that it took an amazing…
3 Full Months
To Hand Craft EACH Club.
Three months! That's not a joke. You can't get this kind of quality from a retailer. No way… this is total custom.
Each clubhead is hand-welded and hand-ground. Super tight tolerances (measured in microns and fractions of a gram), meticulous custom hand construction, and impossibly high standards.
Professional level all the way.
Totally unlike any club you've ever played. Complete golf bliss… really. The revolutionary square "broad shaped" head provides a high MOI, (or "Moment of Inertia"). They're not square just to look nice. The shape distributes the weight downward, to the back, and around the periphery to stop the club from twisting off line during miss-hits. Okay… forget about all the techno mumbo-jumbo. All you really need to know is that all your shots will sail straight and true -- even on your worst flubbed miss-hits.
The easiest clubs you'll ever hit. Smooth as silk. It instantly makes all your long irons obsolete. Like I said… no need to swing like a maniac either. All of them swing just like a 7 iron. Any more effort than that and you're wasting your energy, (no need to wrench your back). The lower center of gravity and lower spin rate gives incredible control and greater distance. It's true! You don't have to have a 100 mph "career swing" with these hybrids. An easy move means crisp, clean, accurate shots that sail true and straight for hundreds of yards. Total confidence… and way more fun, (your pals won't know which way to run).
The clubhead is one massive forgiving sweet spot. Huge breakthrough here. There's a distinct "bulge" or roundness built into the clubface. Don't worry… it's supposed to be there. It's another of Brimley's design secrets, and it's a doozy. Keeps the ball in play no matter how you hit it. Creates what's called a "gear effect" that literally forces the ball back into play -- even when smacked off the heal or toe. So forget playing clubs with a microscopic sweet spot. These clubheads are nothing but one enormous sweet spot.
The hottest "trouble-shot" clubs. The unique "wide sole" glides like a dream through thick wet rough (where other long irons just get caught and "smothered")… sweeps over hardpan for the most amazing "saves" (it's practically impossible to skull a shot)… and allows you to nail astonishing accurate shots from anywhere on the course -- with ease! Gets the ball airborne fast too… and the slight offset makes it easy to strike with REPEATABLE consistency. Oh your life is about to become so much more simple. (Perfect for bump-and-run shots around the greens too… so you can deftly bypass the difficult pinched-wedge shots).
Absolutely LEGAL. Meets all USGA standards. Which is why all the pros are using these new Hybrids like crazy. Crafted from the super hard 431 "tight-molecular" stainless steel (top quality… not the cheap aluminum alloys you see in so many other clubs). The only difference between the 3, 4, and 5 Hybrid Woods is the loft, (20, 23, and 26 degrees), and the length of the shaft which is 100% graphite (4.5 degree torque). It's been "squeezed" with mind-boggling compression on a steel mandrel (just how the pros like it), til it's a nice consistent tight dry fiber. The tolerances are within fractions of a gram (unlike inferior "composite" shafts which can vary 15 to 20 grams). Excellent "balance point" that floats effortlessly in the hands.
Look… I can't stress this enough. I've got my own name on these clubs, (they're called "Doc's Hot Metal Hybrids"), so I wanted to make sure they were the finest ever made. That's the kind of obsessive golf nut I am.
It's why I got Brimley. And why I went through all this trouble and expense.
I wanted the best.
And boy have I got it.
But here's the part you'll like most: A quality hybrid wood typically sells for around $199 – each, (although you'll never find one as pristine as these Hot Metals). Check it out for yourself.
Add in the $11 Dura-Poly 600 neoprene head covers (with UV coating, neoprene framing, custom embroidery, sealed reinforced seams, and an "easy-on easy-off" proper-fit design), and you've got a set of hybrids costing at least $630 a set.
But you won't pay anywhere near that. Not $600… not $500… not even $300. You see, Brimley made an arrangement with a first-tier foundry (that's the best, of course), to produce his design in "short batches" of just 500 units…
And Only During Their
"Down Times".
Nobody but Brimley could have pulled that off.
It means my custom clubs are run in between orders from the big-boys. The foundry's happy because they've got work during the slow times… I'm happy because I can get boutique handmade quality instead of cranking out thousands of low-quality clubs like popcorn… and Brimley's happy that I'm happy.
And of course you'll be happiest of all. Because all this maneuvering means you can get a complete set of three Hot Metal Hybrids…
For Just $249!
That my friend is a killer deal. Because these hybrids are equal to (if not better) than what pros are now playing.
And the best part is that you don't risk ONE PENNY of that money. Because today I'm giving you a chance to try them for 90 days… risk FREE.
That's right, order them now and if you aren't 100% thrilled and delighted with these clubs… if they haven't made you the most feared and envied player on the course…
... if you're not smacking long accurate shots off the tee, from the fairway, even from the thickest rough or nastiest hardpan…
... then I insist that you send them back (in any kind of condition) for a full and prompt refund.
It's your chance to…
"Test Drive" These New Hot Metal Hybrids
For
FREE!
People think I'm nuts, (especially my accountant), but I'm willing to back my word 100%. My dad taught me that, and it stuck. It's the right thing to do.
And I trust your judgment completely. You're getting in on a fabulous deal here and -- as one of my hotlist members -- if later you change your mind, no problem.
I dare you to try that at your local pro shop. Buy a club… play it for 3 months… then take it back and ask for a complete refund. You'll be lucky not to get tossed out of the shop with a swift kick in the butt.
This is an exceptional offer. No doubt. There's no risk to you at all and you'll get bragging rights to the SAME new technology (even better) that the pros are now using. I'm more than happy to use my connections to get you the best golf has to offer.
Here's what you need to do now: Click on the "Add To Cart" button right now
This is the fastest way to get your hands on these three beauties. Your clubs are all on hand in my warehouse and they'll be rushed out to you immediately.
Or, if you'd rather talk with a living breathing person, you can call my office directly at:
1-888-665-6961
Use your credit card. Tell the operator you want to "test drive Doc's Hot Metal Hybrid Woods", (ask for Department HMH-300). Operators are on standby 24/7, so there's never a bad time to call.
And no… you can't buy just one club at a time. I won't allow that.
It's all three clubs or nothing.
I won't have my operators run ragged with people wanting just one club, then calling back later begging for the other two -- and only to be told "no" because we're all sold out.
That doesn't make sense. You know what we got. It's all top quality. There's NO risk. And you'll need all three clubs anyway. So there's no reason to piece-meal this out.
Of course if you'd rather pay by check or money order (payable to OHP), just send $268 (that's $249 plus $19 shipping and handling) to: OHP Direct, Dept. HMH-300, 606 E. Acequia Ave., Visalia, CA 93292.
But like I said, the fastest and easiest way to take care of this now is to simply order online.
But you must act now. Of the 500 clubs on order, Brimley was able to deliver just 200 sets to me so far. I've already sold seven sets to some close friends and pros, so there's now just 193 sets waiting in my warehouse.
I don't expect they'll be there very long either.
And this is for my "hotlist" only. Nobody else is getting in on this deal (although, as usual, there are certain vultures and "collectors" already trying to buy up the entire batch at once).
So I'm forced to put strict time limits on this – just ONE set of hybrids per customer and only 7 days to order.
After 7 days I'll assume you're not interested and I'll contact the hotlist guy below you. There are plenty of sets to go around right now, but only if you order now.
If you wait you'll probably miss out til my next batch comes in. And Brimley just called to say the first-tier facility is now swamped -- so I'm just not sure when I'll get the other 300 sets. Maybe a few months… probably longer.
I'm absolutely serious. It's like dealing with a custom Ferrari shop. Or a custom home builder. And with my accountant and business partners whining, I'm not sure how long I'll be able to hold this low price, (my "profit-margins" are so thin it's not worth mentioning).
It's a nerve-racking way for me to do business, but for my hotlist guys it's well worth it.
Look, if you love to play great golf... not just play golf, but play the kind of golf that makes grown men cry over impossible shots… time after time…
... scoring low even when you're constantly in trouble… and always being in position to birdie or save par, then this is for you.
It's how you'll make your most competitive golf pals really sweat bullets.
Every time they check over their shoulder, there you are… again... with that confident grin plastered on your face.
Oh boy, are they gonna hate you.
This is where golf gets fun.
Regards,

Doc O'Leary
Head Golf Nut, OHP
P.S. Oh… wait… I've also got a FREE bonus DVD waiting here for you too. This is good. Very good. Brand new instruction (from a seasoned golf pro), to go along with your new Hot Metal Hybrids.
In this DVD, (called "How To Get More Sizzlin' Raw Power From Your... New Hot Metal Hybrids"), you'll learn some "bread and butter" pro tricks including:
How to use your current

7-iron swing...

with a simple "tweak" in your stance... to hit over, or under trees in your path.
How to easily "shape" your shots around doglegs - just like a top pro – with nothing more than a hybrid and a tiny adjustment in your distance from the ball when you swing.
And more. Hitting "hi-lo" trajectories… neat hybrid chips from the fringe… soaring shots out of jungle-thick rough and fairway bunker lies… how to use this club on long par 3s to increase your birdie chances dramatically… even how to use the club to save strokes when your "A" game has gone to sleep.
Of course it's not necessary for you to watch this DVD before using your new clubs – but it'll give you some cool pro tricks to getting all that you can from these hybrids. And when you start shaping and bending shots around trees and doglegs, your buddies will fold like a cheap card table and throw up their hands in surrender. Beautiful.
And I want you to keep this DVD (as in FREE), no matter what you later decide about the clubs. Just a little gift from me to you for trusting me on this. How's that for generous.
P.P.S. -But hang on... I've got another free bonus for you.
I call this one "15 Killer Hot-Metal Hybrid Scoring Tips".
It's a game-changing audio interview with one of the most sought after professional golf instructors in the United States and Europe.
Discover simple, helpful Hot Metal Hybrids tips to deal with uphill and downhill lies, playing from the rough, out of nasty divots...
... a clever way to start shaping shots for gorgeous fades and draws...
... how to hammer long accurate shots from impossible fairway bunkers...
... and a lot more.
You'll also learn breath taking tricks to "visualizing" your shots for more consistency and even receive the exact steps a professional golfer uses before each and every shot.
It's a ton of practical tips and tricks you can start using right away... and it's yours to download for FREE.
I've made this as quick and simple to get your hands on as I possibly could. The moment after you place your order you'll be directed straight to your instant download page.
PLUS... I have ALSO made the transcript of this incredible interview available to you.
Just open it up and read it right on your computer...
...or print it off to use as a handy quick reference guide.
The killer audio interview and the downloadable transcripts are both yours for free... but only if you act right now.
P.P.P.S. Okay… just a recap to be sure we're clear. Order online, (or call my office at 1-888-665-6961), and you'll receive:
"Hot Metal" Hybrid Clubs. Three clubs that'll allow you to get those nasty long irons out of your bag for good. You'll be one of the first to get your hands on the latest and greatest golf technology available. (Includes the "proper-fit" neoprene head covers too).
90 Day Guarantee. "Test drive" these clubs out for 3 full months. Beat 'em like a rented horse 36 holes a day if you want. If you're not totally convinced these are the real-deal, just return them for a full refund. No questions asked and no hassles.
FREE bonus DVD. This DVD will show you the pro secrets to shaping shots for amazing new control over the ball. Very cool.
FREE bonus - "Instant" downloadable Audio interview, listen to it immediately...plus you'll even be able to print off the transcript for use as a "handy" reference guide...
7 Days to order. I've put aside a set of new Hot Metal Hybrids in your name. My staff is expecting your call. If they don't hear from you within 7 days, your set of hybrids and your free DVD goes to the next hotlist guy in line.
There are just 193 sets available right now, so don't screw around and miss out.